The traditional color scheme of black and white is undeniably classic and upscale when it comes to kitchen renovations. It's safe to say that this kitchen makeover, which we just had the honor of working on, was very noteworthy. We take great pride in realizing the aspirations of our clients, and this job was no exception. In this blog post, we're thrilled to reveal the specifics of our most recent kitchen renovation, in which Tricorn Black and Silver Linings combined to produce a gorgeous, contemporary, and enduring environment.
Black and White Has Magic:
Black and white have a timeless appeal in interior design, which is not a coincidence. It is a classic combination that seamlessly unites elegance and simplicity, making it appropriate for both traditional and modern design styles. Tricorn Black and Silver Linings, our client's pick, wonderfully caught the essence of this timeless pair and gave their kitchen space new life.
Tricorn Black - Beautiful and Bold:
Tricorn Black by Sherwin-Williams is unquestionably the highlight of this kitchen remodel. The rich, deep black color conveys drama and sophistication. It makes the ideal backdrop, allowing other components to stand out against its dark background. Tricorn Black gives the kitchen a sense of depth and modernism, transforming it into a remarkable area that is ideal for culinary endeavors and family get-togethers.
The book Silver Linings: A Modern Companion
We added Sherwin-Williams' Silver Linings to counteract the boldness of Tricorn Black. This delicate white tone offers the ideal contrast. The dark background is balanced by its light and airy presence, which gives the kitchen a feeling of openness and space. Silver Linings is the perfect pick for this project because it also has a modern vibe.
Working with black and white is enjoyable in part because it makes incorporating other design components simple. Adding stainless steel equipment, which elegantly complements the silver details in the design, allowed our team to bring this kitchen to life. Together, they support the overall modern aesthetic while preserving the color palette's classic appeal.
When Practicality and Beauty Collide:
Beyond only being aesthetically pleasing, this kitchen benefits practically from the mix of Tricorn Black and Silver Linings. The light worktops and backsplash provide a bright and welcoming atmosphere, while the dark cabinets are simple to clean and can conceal small stains. It strikes the ideal blend between fashion and utility.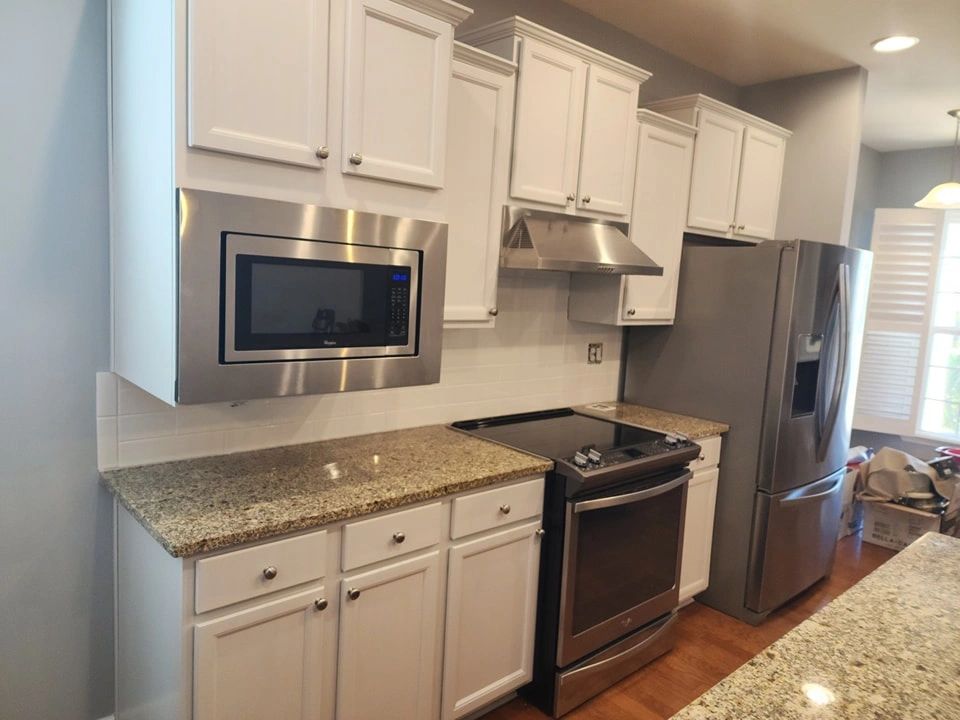 The renovation of this kitchen with Tricorn Black and Silver Linings is proof that black and white interior design is still beautiful today. A space can be both elegant and practical thanks to its ageless appeal and useful benefits. We enjoy assisting our clients in making their visions come true, and this project was truly a labor of love.