You're in for a treat if you've ever imagined owning a kitchen that looks like it belongs in a magazine! A dream come true has been created in the kitchen thanks to a recent amazing refurbishing project we undertook. The transformation of this kitchen from extremely damaged and thickly glossed to crisp and clean is nothing short of miraculous. Come along with us as we walk you through this remarkable metamorphosis.
We started off with a kitchen that had previously been extensively damaged and glazed. Although some people could have found charm in its unpolished appearance, our customer had another idea in mind. They wanted a kitchen that was sophisticated and contemporary. Oh boy, did we deliver on that!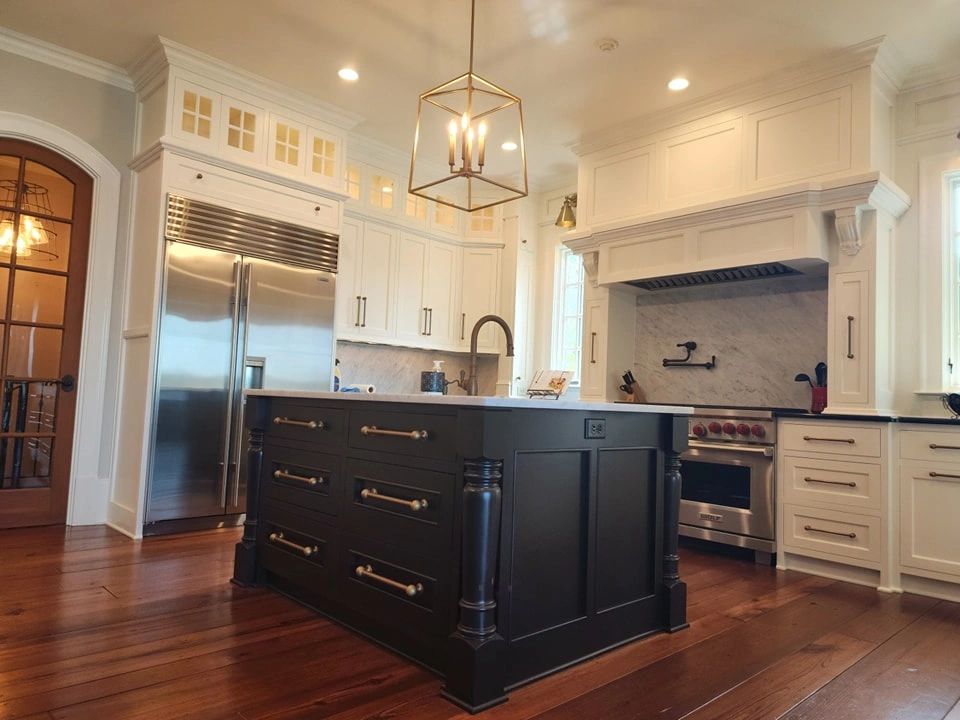 The Process of Transformation
We chose a refurbishing method that required mixing SW Whitetail and SW Tricorn Black with
Milesi Wood Coatings USA and Canada
to obtain the desired effect. This combination provided us with the ideal blank canvas on which to paint, enabling us to realize our vision.
Applying a new coat of paint was only one aspect of the renovation. We place a premium on accuracy, and this job was no exception. Here is an illustration of the careful steps we took:
Perfecting the Surfaces:
We started by carefully preparing the surfaces. To get rid of the old finish and make a smooth foundation for our new coating, this required a lot of sanding. To add a contemporary and upscale touch to the kitchen, we additionally filled and drilled for new hardware.
Speaking of hardware, selecting the right cabinet handles and knobs may make all the difference. In this instance, we used hardware from Modern Matter Hardware, which gave the room a dash of class and utility.
The Magic Sprayer
: To get that incredibly smooth furniture finish, we employed an
Apollo Sprayers HVLP sprayer
, which completely changes the game in terms of getting a perfect, polished finish. It makes sure that every crevice is evenly covered, leaving no room for flaws.
Now, the moment you've all been waiting for – the grand reveal! The transformation from a heavily glazed and distressed kitchen to a sleek, modern, and dreamy culinary haven is awe-inspiring. The islands, in particular, steal the show with their clean lines and contrasting colors. It's a kitchen that's not only functional but also a work of art.
The kitchen is the center of your house, so it should represent your tastes and aspirations. Our most recent kitchen renovation project serves as an example of how those goals may come true with the appropriate items, some hard work, and vision. We have designed a genuinely magical kitchen with Milesi Wood Coatings, Modern Matter Hardware,
SurfPrep Sanding
, and
Apollo Sprayers
.
Take this project as inspiration if you've been considering refurbishing your kitchen. Keep in mind that the change itself can be a beautiful experience. Here's to creating the kitchens of your dreams!