The kitchen is the center of the home, but it is also a window into the character and taste of the owner. We at Milesi Wood Coatings USA and Canada are proud to have contributed to countless kitchen makeovers that make our customers happy. We welcome you to learn more about a recent kitchen renovation that exemplifies the power of our wood treatments and the delight of delighted clients in this blog article.
White cabinets with a custom glaze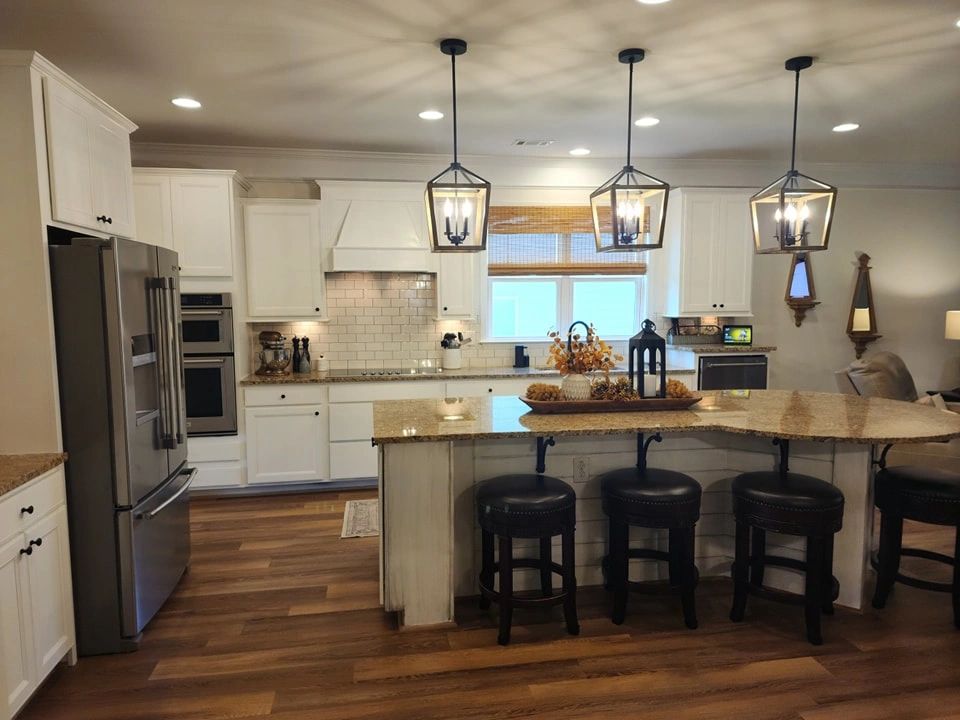 The gorgeous cabinetry, which was finished in Simply White, is one of the transformations of this kitchen's most notable characteristics. This project is no exception to Milesi Wood Coatings' reputation for flawless finishes in the United States and Canada. The seamless and perfect application of our wood finishes has given the cabinets a classic charm. A special finish was used to give character and depth, producing a subtle contrast that really makes the cabinets stand out.
Island: Faux Shiplap Finished
The island, which serves as the kitchen's focal point, received particular attention. The exterior of the island was covered in faux-finished shiplap rather than conventional paint or stain. This creative solution offers a lovely visual contrast to the rest of the kitchen in addition to adding a bit of rustic charm. It's a design decision that highlights how innovation and skill can improve the overall appearance and feel of a kitchen.
Simply White with a Faux Barn Wood Finish for the Bar Area
The bar area is where the celebration takes place, therefore it needs a finishing touch that creates an ambiance. For the bar area in this kitchen, Milesi Wood Coatings USA and Simply White Canada were used, resulting in a tidy and welcoming room for meeting and entertaining. The wine rack and storage were given a faux barn wood finish to give the space a distinctive look. The outcome? is a tasteful fusion of rustic and modern components that gives the room personality and charm.
The HVLP (High Volume Low Pressure) technique used by Apollo Sprayers is the secret to these buttery smooth finishes. The application of the wood coatings is exact and consistent thanks to our cutting-edge spraying technique, producing perfect surfaces that are guaranteed to wow. We can't help but join our customers' enthusiasm as they frequently express their awe at the result.
The ability of Milesi Wood Coatings USA and Canada to transform ordinary spaces into spectacular ones is demonstrated by this kitchen renovation. Our goods and knowledge can make your idea a reality, whether it's a minor kitchen update or a major kitchen remodel. We take great pleasure in our handiwork, and nothing makes us happier than witnessing the joy of our clients. Trust Milesi Wood Coatings to make your kitchen remodeling an unforgettable experience if you're thinking about it.