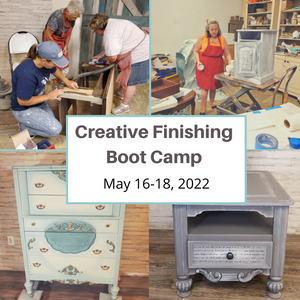 3 Day Creative Finishes Boot Camp May 16-18, 2022
Regular price $450.00 Sale
In this Creative Finishing Boot Camp you will learn creative furniture finishing from beginning to end. This class is so comprehensive that it will take you 3 days to complete it. Class size is limited to 5 people so that I can give everyone one on one time with each step of the process. You will use lots of products from Dixie Belle, A1 Transfers, Wise Owl Paint, Country Chic Paint, Paint Couture, Eye Love Hue Paint, Miss Lillian's Paint, Modern Masters Paint, Grace on Design Products, Zibra Brushes, Prima, Woodubend, SurfPrep, Apollo, Glass Bead Gel, Metallic Foils, as well as others. You will be allowed to bring 2 pieces of furniture that will be completed during the workshop. (The furniture pieces must be able to be moved easily)
A few of the items on the agenda include blending & shading, dry brushing & layering, sea spray & chippy finishes, waxing and glazing as well as spraying paint and topcoats, furniture repair and embellishments, decoupage, transfers, glass bead gel, raised stencils, crating rust and patina finishes ......and so much more!!! In fact we are going to set up the spray booth on the 2nd day and spray away!!
We will also be including resin and paint pouring this year.
You will get to use equipment by Apollo Sprayers HVLP and SurfPrep Sanding.
Fees are $450 and do not include lodging. You can pay 50% down to hold your spot, and the balance must be paid by March 15th, 2021. There will be no refunds after March 15th.