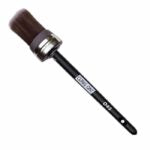 Cling On O45 Brush
Regular price $38.75 Sale
Item: O45
Product Description: Cling On O45 Large Oval Brush 
Large Oval
Width: 1.65"
Filaments length 2.25" (57mm)
Handle: 7.7" (195mm)

Series: Oval Brush Series
The CLING ON! ClingOn Brushes offer Superior application, resistant to shedding, and smooth flawless finishing makes this brush the favorite brush among furniture painters. Premium synthetic filaments, beech wood painted handle, fully locked in epoxy cement to eliminate shedding, stainless steel ferrule. Hand made in Holland. Cling On! is designed for all waterborne materials. Brushes are available in round, oval, flat, and angled styles.
Cling On brushes come in 6 shapes: Round, Oval, Flat Bent, Block and Shorty. The brushes are extremely durable, have the best shape retention, can be used with all water based products, are easy to clean,
are superb with cutting in, and provide a better coverage with a smoother finish.

Bent Brushes (P series): Bent brushes are perfect for painting in hard to reach corner and cabinets, inside drawers and awkward spots.

Oval Brushes (O Series): Oval brushes are a go to for most pieces. The size of the brush depends on what you are working on.

Round Brushes (R Series): Round brushes are ideal for narrow and small clean lines. Great for working on edges and trim.

Flat brushes (F Series): Flat brushes are great for large flat surfaces, doors, large flat furniture pieces like armoires and desks, everyone seems to like the comfort of a flat brush.

Shorty Brush (S Series): Shorty brushes are a best seller for sure! The short handle makes it easy to hold and paint.

Block Brush (B Series) These giant block brushes are ideal for applying poly, stain, varnish, color washes, and painting walls. This is one mammoth block brush and believe me, you will find it useful on large projects!

CARE AND USAGE TIPS FOR YOUR CLING ON BRUSH:

-Always wet your Cling On Brush before using, this allows the filaments to to absorb the water, not your paint and allows for much easier flow and easier cleaning. Keep your brush wet! This takes some getting used to, but, if you can keep a bucket of water next to you when you paint and re wet your brush from time to time. Dab off excess on a paper towel to get the excess water off and continue to paint.
-DO NOT REMOVE THE STRINGS, these will help keep your brushes in tip top shape
-DO NOT wrap your brush in plastic wrap or plastic bag
-To clean, you can put your brush in a jar of water, not up past the ferrule (metal part) try to not let it sit on the bottom of the container. Let it rest like this between coats and when you go to use again just take excess water off and paint. To clean, just use water and if you want to keep your brush in tip top shape you can use dawn soap or a good quality brush soap.