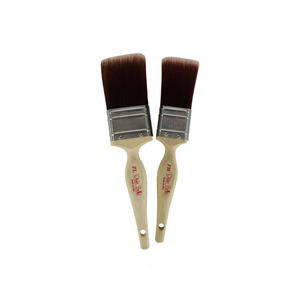 Dixie Belle Synthetic Brush Large Flat
Regular price $35.00 Sale
This wonderful new synthetic Dixie Belle brush is made in the USA and comparable to the Clingon F50. 
You have been hearing about them....soon they will be a reality!
These are the next best thing since......sliced bread!
Our brushes are made with the highest quality Dupont synthetic blend Filaments that are on the market today. They can be suspended in water just like Cling On. They are made right here in the Good Ole USA.
The filament itself is a tapered filament that has been flagged to imitate the natural split ends of hog bristle. All the brushes do have a flat style trim except for the mini. The mini brush has a chisel trim style but the chisel shape is first hand formed during the manufacturing process. The hand forming process provides an even soft feel throughout the chisel shape.
These brushes are medium/stiff. Since they are made with SRT (Solid Round Tapered) Filament, they have great response with spring back and bend recovery for the flex. This helps with retaining the natural form and shape of the brush which is what you see and would expect from higher end professional paint brushes.