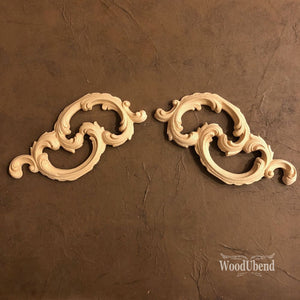 Woodubend #1520 (pairs)
Regular price $21.99 Sale
Apply WoodUbend mouldings to wood, glass, stoneware and other surfaces. Once applied, mouldings becomes a permanent part of the surface.
WoodUBend is crafted from real wood sawdust, which can be drilled, sanded, stained, painted and waxed, as real wood. 
Once warmed, WoodUBend moulding shape and become flexible. 
Paint or stain mouldings before or after affixing to the project.
WoodUBend mouldings can be ripped or cut with scissors or a utility knife.
Always warm WoodUBend prior to use, ensuring moulding conforms to the surface evenly.
Application instructions:
Warm WoodUbend mouldings with a hot plate & griddle, heat gun or hair dryer until flexible.
Apply a good quality wood glue to bottom of moulding.

Affix

to project,

immediately

applying more heat to the moulding. This accelerates the bonding process. 

Hold moulding in place until moulding cools

; usually just a few seconds

.

As soon as moulding has cooled, paint, stain, or wax.
Measures 8.27" x .3.54"
You can also purchase Titebond glue to attach it